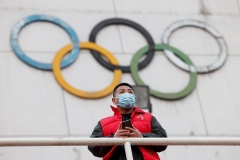 A spectator watches a football game in Beijing in April. China's capital is due to host the Winter Olympics next February. (Photo by Fred Lee/Getty Images)
(CNSNews.com) – With accusations of double standards and references to the Tulsa massacre and discrimination against indigenous peoples in North America, China is slapping away mounting criticism in the western world over its hosting of the 2022 Winter Olympics.
House Speaker Nancy Pelosi (D-Calif.) has called for a diplomatic boycott of the Olympics, lawmakers in a dozen countries launched a coordinated campaign of legislative actions focused on the games, and Canada's prime minister has promised to bring up with G7 leaders this week ways in which the 2022 event could be used to press China on its human rights record.
Reasons for opposition to Beijing hosting the games vary, but at the forefront is anger over China's policies in Xinjiang – which the U.S. and others have determined amount to genocide against minority Uyghurs – and its throttling of democracy in Hong Kong.
At a briefing in Beijing, foreign ministry spokesman Wang Wenbin rejected "interference in China's internal affairs in the name of human rights issues."
"Instead of facing up to and solving their serious human rights problems at home, the United States and Canada have smeared and attacked China's human rights situation with fabricated excuses, which fully exposes their usual double standard on human rights issues and their political calculation of using human rights issues to serve their own selfish interests," he said.
"African Americans are struggling to defend their freedom to breathe one hundred years after the Tulsa massacre," Wang said. "The Canadian government's forced assimilation policy led to numerous deaths of indigenous children, but the truth has yet to come out."
He also tried to draw a comparison between U.S. politicians' reaction to the January 6 breach of the U.S. Capitol and what he called "similar incidents" in Hong Kong.
"The world also sees clearly that the U.S. side described the storming of the Capitol Hill by protesters in January with words like 'violence' and 'disgrace,' but labeled similar incidents that took place in Hong Kong as 'a beautiful sight to behold.'"
(The latter reference was a swipe at Pelosi, who said in June 2019 that mass street rallies in Hong Kong, against a draft bill that would have allowed extradition to China, were "a beautiful sight to behold.")
Pelosi, a longstanding critic of the Chinese Communist Party (CCP), told a Congressional-Executive Commission on China hearing last month democratic world leaders would jeopardize their "moral authority" if they attend Beijing 2022 "in wake of a genocide that is ongoing."
This week, a bipartisan group of U.S. lawmakers, including House Foreign Affairs Committee chairman Gregory Meeks (D-N.Y.) and ranking member Michael McCaul (R-Texas), introduced a resolution calling on the International Olympic Committee (IOC) to find an alternative host city "if the government of China fails to release all arbitrarily held Uyghurs from mass detention centers and prisons."
"By granting the CCP an opportunity to cover up its atrocities and improve its image on the global stage, the IOC is violating its own principles and tarnishing its own brand," said McCaul.
Taking aim at the IOC's assertions that the Olympics are not "political," the committee's vice-chair Rep. Tom Malinowski (D-N.J.), said, "There's no such thing as non-political games – dictatorships like China host the Olympics to validate their standing as normal and respected countries even as they continue to commit crimes against their people."
'Willing agents in Beijing's propaganda campaign'
In Canada, the European Parliament, and the national legislatures of several European countries, similar initiatives were launched on Monday, including petitions, motions and questions to governments relating to diplomatic boycotts of the games.
"The games are a golden chance to build China's soft power and distract from the horrific abuses taking place in the Uyghur region, Tibet and Hong Kong," said Tim Loughton, a Conservative member of the U.K. House of Commons. "Any political leaders attending the games risk acting as willing agents in Beijing's propaganda campaign."
Last Friday Canadian Prime Minister Justin Trudeau said Beijing's hosting of the games provided an opportunity for concerned countries to put pressure on China over its rights record, and promised to raise the matter at the G7 summit in England later this week.
On the same day, the leader of Canada's opposition Conservative Party, Erin O'Toole, urged Trudeau in a letter to "use your voice on the world stage to call for the relocation of the 2022 Winter Olympics out of Beijing."
The U.S. Olympic and Paralympic Committee opposes calls for nations to stay away from Beijing, and last month welcomed an opinion poll in which 64 percent of respondents said they do not support a boycott.
The Biden administration has not announced its stance on calls to boycott the games, scheduled to run from February 4-20 next year.
Both Secretary of State Antony Blinken and State Department spokesman Ned Price have said when asked that the event was a way off yet, and that the U.S. would be consulting closely on the issue with "partners" and "allies."
Back in February, White House press secretary Jen Psaki also referred to consultation with other governments, but said the administration was "not currently talking about changing our posture or our plans as it relates to the Beijing Olympics."
Late last month, when asked if President Biden agreed with Pelosi's call for a diplomatic boycott, Psaki said the administration was "quite outspoken on human rights" in its engagement with the Chinese, "but our position on the Beijing Olympics has not changed."