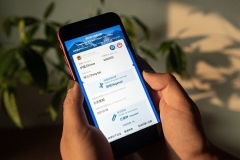 China's government has issued a COVID-19 health certificate for Chinese wanting to travel abroad. (Photo by Nicolas Asfouri/AFP via Getty Images)
(CNSNews.com) – Amid swirling global debates around the need for, effectiveness of, and ethical concerns posed by COVID-19 "vaccine passports," a Chinese Communist Party media outlet is suggesting that China's domestic "health code" system set up last year could be a model for international travel.
"China is the most experienced country in using a health code system in the world," Global Times reported, citing a Chinese telecom industry association expert as saying China could share its experience and techniques in the development of a global platform, under the supervision of the World Health Organization (WHO).
The paper said that if the international community works together, a platform could be set up within months, and could even be ready for use during the Tokyo Olympic Games, which because of the coronavirus pandemic were postponed last year until the coming summer.
China in 2020 created a smartphone-based "health code" system which assigned to citizens a QR ("quick response") code with a green, red, or amber indicator of health status.
Indicators were based on big data and self-reported travel history, contacts, and any symptoms associated with COVID-19. A red code required a person to quarantine for a fortnight, an amber code meant a week-long quarantine, while those with a green code could move around freely.
On Monday, the Chinese foreign ministry's department of consular affairs launched a health certificate for Chinese wanting to travel abroad as travel restrictions start to ease.
The certificate records results of nucleic acid tests (which diagnose active coronavirus infection) and serum antibody tests (which show if a person has been infected in the past), as well as vaccine inoculation status and other information. They are available in hard-copy form, or digitally through the ubiquitous social media and messaging app WeChat.
(Image: Chinese Foreign Ministry/Department of Consular Affairs)
Embedded QR codes would enable authorities – in China and other countries that agree to participate – to verify the holder's personal information, the ministry said.
"China stands ready to discuss with other countries on establishing mutual recognition mechanisms for health codes information on the basis of accommodating each other's concerns and friendly consultations," said foreign ministry spokesman Zhao Lijian. "This will facilitate the issuance of visas, thus making cross-border travel much easier and contributing to the healthy, safe and orderly people-to-people exchanges."
Addressing a virtual G20 summit last November, President Xi Jinping spoke about the need for countries to "harmonize policies and standards and establish fast tracks to facilitate the orderly flow of people," and referred to the use of QR codes to record COVID-19 test results.
Given China's human rights and mass surveillance record, the remarks prompted concerns from some quarters.
"Beware of the Chinese government's proposal for a global QR code system," tweeted Human Rights Watch executive director Kenneth Roth at the time. "An initial focus on health could easily become a Trojan Horse for broader political monitoring and exclusion, akin to the dangers associated with China's social-credit system."
'Real practical and ethical considerations'
The World Health Organization says it's important to differentiate between vaccine certificates, which are important records of inoculations, and a vaccine passport envisaged as a mandatory requirement for travel.
The latter, it says, are not recommended now, both because of limited global supply of vaccines, and because vaccines' efficacy in preventing transmission is not yet clear.
"At the present time the use of certification of vaccination as a requirement for travel is not advised because quite simply vaccination is just not available enough around the world and is not available certainly on an equitable basis," Dr. Michael Ryan, director of WHO's emergencies program, said during a briefing on Monday.
"If access to vaccine is [inequitable] then inequity and unfairness can be further branded into the system if we continue to make decisions on what people can and can't do, where they can and can't go on the basis of being vaccinated, when being vaccinated itself is not something that everyone has equal access to."
Ryan warned there were "real practical and ethical considerations" to be taken into account.
He also noted that some people cannot be, or do not wish to be vaccinated for various reasons, adding, "So this is a very important societal discussion and I think we need to be very careful."
In Europe, countries like Greece are pushing for vaccine passports in the hope they will facilitate sorely-needed tourism during the upcoming summer season. European Union member-states are divided on the issue, and the E.U.'s executive Commission has not ruled out the idea.
The issue was raised at the White House press briefing on Tuesday, when press secretary Jen Psaki was asked whether it was a good idea for the federal government to set such guidelines.
"We recognize that as many Americans get vaccinated, questions will come up, and they're already starting to come up, as to how people will be able to demonstrate they are vaccinated," she replied. "I think it's important to remember only about 10 percent of the American population is vaccinated at this point. We've obviously made progress, but we have more work to do."
Psaki said the government's focus was on getting more people vaccinated, and that any vaccine passport initiatives were coming from the private sector and not-for-profits, rather than from the government.
Ends