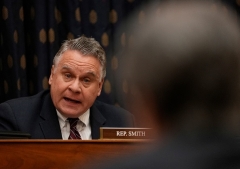 Rep. Chris Smith addresses Secretary of State Antony Blinken during Wednesday's House Foreign Affairs Committee meeting. (Photo by Ken Cedeno/Pool/AFP via Getty Images)
(CNSNews.com) – The United States should be standing "with the oppressed," and "against the oppressor" in China, Rep. Chris Smith (R-N.J.) said on Wednesday.
He drew attention to President Biden's executive order, a week after taking office, restoring taxpayer funding to the U.N. Population Fund despite concerns about its links to Beijing's coercive population-limitation program.
During a House Foreign Affairs Committee meeting, Smith challenged Secretary of State Antony Blinken on Biden's record on responding to China's human rights violations, drawing attention to both recent and past remarks on the subject.
Although Smith was quite specific in his criticism, Blinken in his response spoke only broadly about the administration's determination to "put human rights and democracy back at the center of our foreign policy," using the tools provided by Congress to do that.
He did not address Biden's remarks as cited by Smith, or the decision to refund the UNFPA. President Trump defunded the agency soon after taking office, under a legal provision – the 1985 Kemp-Kasten amendment – which prohibits funding for any agency that "supports or participates in the management of a program of coercive abortion or involuntary sterilization."
Blinken spoke for a little over a minute without touching on the precise issues raised, before the chairman interrupted to say time was up.
During his questioning, Smith recalled that when Biden was asked during a CNN town hall last month about China's treatment of the Uyghurs, the president had replied to the effect that, "Culturally there are different norms that each country and their leaders are expected to follow."
Smith said Biden's answer "was eerily reminiscent of President Obama's cultural norms defense of Chinese President Hu Jintao which was roundly criticized by human rights defenders everywhere."
(Speaking alongside Hu at the White House in 2011, Obama said in response to a question about human rights concerns, "China has a different political system than we do. China is at a different stage of development than we are. We come from very different cultures with very different histories." He added that he had told Hu that some norms "transcend cultures.")
Smith, the second longest-serving member of the House and a veteran human rights voice on the Hill, drew attention to his efforts over decades to withhold funding "from organizations that support or co-manage coercive population control programs."
"Now, as you have said today, and as we know from the executive order by the president, there's a order designed to resume foreign aid to organizations like the U.N. Population Fund that have been found repeatedly to be in violation of Kemp-Kasten's non-coercion policy." (The UNFPA denies that its projects in China support its coercive population-control policies.)
Smith said that Biden as a senator had voted against a resolution in 2000 "simply criticizing China's barbaric one-child-per-couple policy," and that as vice president in 2011, he had told students in China that he "fully understood and wouldn't be second-guessing that cruel policy that crushes women."
Smith added that as a result of China's population-control policies, "tens of millions of girls are missing, dead" as a result of sex-selective abortions.
"I would hope we'd stand with the oppressed."
The 2000 vote Smith referred to was on a one-line amendment to a bill granting China permanent normal trade relations. The amendmentm which read simply, "To express the sense of Congress regarding forced abortions in the People's Republic of China," failed by 53 votes to 43.
As Smith mentioned, Biden during a 2011 visit to China referred to the communist state's population limitation policies but said he was not "second-guessing" the Chinese over the issue.
"Your policy has been one which I fully understand – I'm not second-guessing – of one child per family," Biden said, questioning whether China's policy was economically sustainable, but saying nothing of its coercive nature.
After criticism from Republicans at home, his office issued a statement, "The Obama administration strongly opposes all aspects of China's coercive birth limitation policies, including forced abortion and sterilization. The vice president believes such practices are repugnant."
In a Rasmussen Reports survey last month, 50 percent of likely U.S. voters said Biden's policy toward China was worse than Trump's, while 31 percent said Biden's China policy was better than his predecessor's.
Blinken's full response to Smith's questioning on Wednesday follows:
Thank you, and I – I appreciate everything you've said. We are determined to put human rights and democracy back at the center of our foreign policy, to make sure that, as well, we have the tools that we need to be most effective in advancing human rights and democracy. One of the things I'm grateful for are some of the tools that Congress has given us to do that, including for example Global Magnitsky [Act] which has been hugely helpful in these efforts. But other authorities, sanctions authorities, and so on – to penalize those directly responsible for committing human rights abuses and other atrocities.
As I was saying earlier, I think we have to start from the proposition that the most important first step is for us to speak up and speak out. And we are and we will. And we also want to make that we're building coalitions of likeminded countries who share these deep concerns about human rights abuses in China, or for that matter, anywhere else.
But then – to your point – to actually take action and apply the tools that we have, see if we can make a meaningful difference. We're committed … ["The gentleman's time has expired," interjected committee chairman Gregory Meeks] … to working with you to find ways to do it more effectively.